In honor of my dear, dear blog-buddy, Unknown Mami, I am participating in I Comment, Therefore I Am. Now, UM is the queen of comments and I am not sure that these are worthy but wherever UM is I want to be so here goes…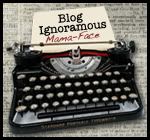 Mama Face at Blog-Ignoramus wrote about her blogging addiction in "I Like to Blog and I Cannot Lie". And her contemplation of leaving the cyber-world for the Real World. This was my response:
You better not quit! I love your blog, your posts, your use of words like gobbledegook. I also love that you leave beautiful comments on my blog. I would definitely miss you.
That said, my husband is starting to wonder why I complain about being tired and then stay up all night on the laptop. Writing and reading.
Oh well, blog is the new crack. :-)


I love Tammy over at Keep in Touch with Mommakin and below are comments for two different posts. The first was called, "Single Tasking in a Multi-Tasking World". It expressed her frustration with bad customer service in the name of multi-tasking. I responded…

P.S. I am in total agreement about the customer service. She may have had to split her attention to you but she shouldn't have celebrated that. I have spent many a year behind a retail counter and I actually took pride in making a connection with my customer. And if I had to be distracted, I would have said "excuse me" and "I'm sorry". Oh well, here's to us hold-outs. :-)

And Tammy and I have an affinity for music. Well, she confessed her love for man on the steel horse in "Bon Jovi Mom".

He IS very good-looking. I think he is getting better everyday (you know like wine). So keep riding your Steel Horse.

And never regret the acid-washed paper-bag jeans. At least, no one saw our rears when we sat down!
:-)



Finally, Nancy at If Evolution Really Works told us about her dream gigs as a part of a focus group. This was my comment.
Somebody PLEASE pay me to eat ice cream Is that what heaven is like? Is there somebody who would pay me to get pedicures??? While being paid to eat chocolate and paid to drink red wine? Now that, ladies and gentlemen, is HEAVEN.
So, there you go. I definitely comment so I guess I am.