Yes, ladies and gentlemen, you have me dancing again. Over the last couple of weeks, I have gotten FOUR awards and won another giveaway. So in honor of my 202nd day as a blogger, I want to thank these ladies and start to pass along some awards.
First off, I want to belatedly thank Hil'Lesha and Messy Mommy who both gave me awards on the same day. What a great day that was! Sorry it's taken me so long!!!
Hil'Lesha over at
Welcome to the Motherhood
gave me the One Lovely Blog which awards newly discovered blogs.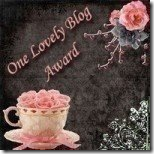 The rule is to pass it on to fifteen blogs that I have recently found. They are:

1. Shelley's Swag (http://shelleysswag.blogspot.com/)
2. The Stroller Ballet (http://www.thestrollerballet.com/)
3. A Lot of Loves (http://www.alotofloves.com/)
4. Alygater's Everywhere (http://alygatr.blogspot.com/)
5. B Sparkly (http://bsparkly.blogspot.com/)
6. The Peterson Family (http://www.petersonstlouis.com/)
7. I am Harriet (http://harrietandfriends.com/)
8. One Loopy Life (http://ryleegrace.blogspot.com/)
9. Aging Mommy (http://agingmommyblog.blogspot.com/)
10. Generation X Mom (http://www.thegenerationxmomblog.com/)
11. Loving My Children's Gift (http://gifts2love.blogspot.com/)
12. Mom et al (http://mom-et-al.com/)
13. Feeding a Family of Five (http://feedingfiveforfifty.blogspot.com/)
14. Big Teeth and Clouds (http://bigteethclouds.blogspot.com/)
15. The Fourth Frog Blog (http://4thfrog.blogspot.com/)

Lots more love to give out but I am having to ration my time between blogging (yay!) and vomiting family (boo!). My apologies to those for whom I just walked into TMI territory. Just life in my crazy world of perfection pie!