So I am working hard on my self-imposed to-do list. I can tell you now that I will not be checking off all the boxes on my Challenge List but I have a few checks to make and a few status updates. I have definitely made progress.


Steps forward include my blog, especially. While it is not fully rocking, I am pretty proud of my progress. I have made a button. I hope to be starting a blog roll soon. I want to personally thank Miss Sneaky Momma Blog for the huge leaps forward. So let's see if I can do her some proper linky love.
I also got helpful hints from Following the Footsteps. There are a lot of good people and good info out there!!!
Thanks, also to the beautiful Latina goddess, Unknown Mami, who directed me To Sneaky Momma and has helped me navigate the blog world of etiquette. UM, you are an endless source of information, love, and support. Here's some linky love for you...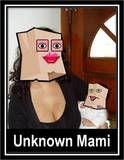 Okay, there is still a lot of learning to do. Please send your ideas, advice, etc. Thanks to everyone for the support and the opportunities for growth. Growth is one of the reasons I am in this game and I have been amazed by all the blogging love.