This week I was introduced to
Heifer International
, an organization that promotes a Pass-it-forward, Earth-friendly approach to fighting hunger and poverty. Many of you may of heard (I almost wrote "herd" but resisted the pun) of it before but for those of you like me who were previously ignorant of this amazing organization, please let me share with you why I am choosing to dedicate time, money, and energy (all of which are in short supply).
Heifer International takes donations and uses them to purchase an animal to be presented to a needy family in a destitute part of the world. The animals are livestock that create a stream of food and income (e.g. milk or eggs). The family is taught how to care for the animal and they are taught monetary and marketing skills so they may sell their wares. This money allows children to attend school and/or avoid being sold by their parents. It also creates self-esteem and independence, especially for women.
But the good doesn't end there. The receiving family makes a commitment to passing it forward. The family must give away the first offspring of their gifted animal. This allows not only the food and income to increase throughout the community but the educational opportunities, as well. Heifer International commits to educating these communities in many areas including finance, crops, and animal husbandry.
Now what does this have to do with Earth Day, you may ask? Heifer International teaches sustainable crop techniques -- to "manage pests organically, conserve water, and build healthy soil". More than that, however, they are committed to stopping deforestation for firewood. Believe it or not, the animals that are introduced into the communities provide another valuable resource -- dung. The families are taught how to collect and dry the animal refuse and use it for fuel -- both saving money for the family and trees for the world.
Here in the United States, even our poorest children are offered the opportunity to attend school. For free. This is not true in all countries. Also, our children -- especially our daughters -- are not seen as commodities to be sold to support the family. Again, not a given in many parts of this world. Heifer International promotes the position of girls and young women by giving them a value in their family and community beyond marriage. It allows them time to receive education and advance their community as a whole. They aren't just meeting the hunger needs of the community (or giving a fish for a day), they are helping these villages move into the 21st century (teaching them to "fish").
In other words, they are changing the world. One cow (chicken, goat, etc.) at a time.
So, I am making a commitment to this organization and to you. I will donate $1 per comment I receive below and if you would like to make a donation, I will match the donation up to $10 each. My family and I are committed to hosting bake sales, you name it, to ensure that we reach this goal.
For every $20 we raise, we can gift a flock of chickens. $60 will provide a flock of geese. $120 gets a goat and if we can make it to $500, yes we will be giving a cow. I hope you will help me in this. Spread the word. If you want to donate, please leave your contact email in the comment and I will contact you directly.
I am leaving this open until Monday, July 5th. Then on Tuesday, July 6th in honor of my 39th birthday and the end of the 38 and Growing experience, I will share with you how much we raised and what we were able to purchase.
So please spread the word. Make me work to match those donations. Look I even made a button.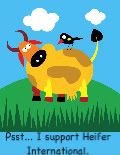 Thanks. One of the reasons I fell in love with this organization is that it doesn't take a big check to make a big difference. Let's see what we can do!